April 16th, 2008 | News
We are very pleased to announce the availability of the eBoostr version 2. This major update has three brand new features, tons of improvements and compatibility fixes. We urge you to try this more stable and powerful tool to speed up your Windows performance.
What's new in this version
Here goes a quick list of the additional features with more details below:
Memory caching (if you have plenty of RAM installed);
Exclude list (the most requested feature);
Power saving mode;
More than 4GB cache file size (on NTFS file system only);
One flash drive use on different computers;
Unlimited number of files in cache;
Build cache process improvement (including initial statistics used from XP prefetch information);
Load balancing mechanism improvements;
And many small fixes and enhancements;
And finally 16 new languages added: Portuguese, Ukrainian, Finnish, Czech, Danish, Hungarian, Bulgarian, Polish, Korean, Swedish, Sinhalese, Lithuanian, Arabic, Belarusian, Japanese and Thai.
Memory Cache
If you have more than 1GB of RAM installed you can use some part of it to place a cache file. Computer RAM has an extremely high read speed and a zero seek times–thus you can get up to 50x higher overall random read speed. We do not recommend you to leave less than 1GB of RAM available to the system after adding a cache. However you can try this on your configuration, may be your applications installed will be comfortable with the amount you leave.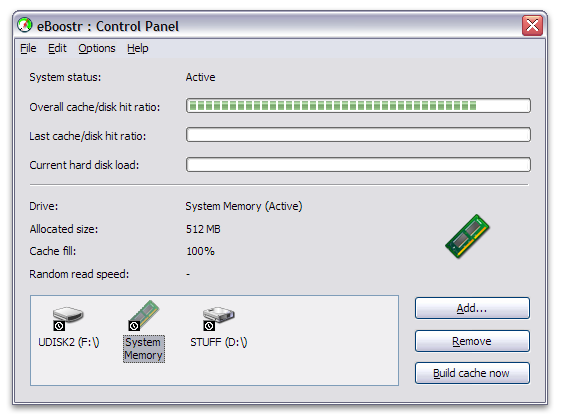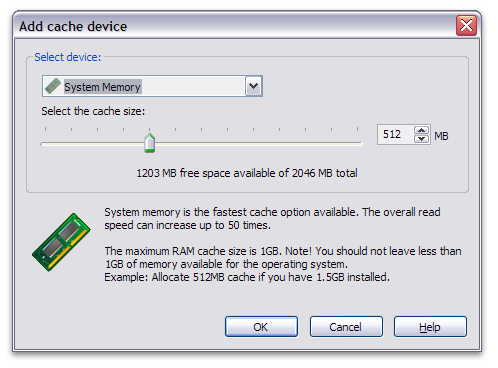 Exclude List
There were numerous requests for this feature. Now you are able to specify any location or a file mask to be excluded from caching by eBoostr. Be careful with this feature! If you exclude the "C:\" location, then all files located on this drive will not be cached–thus none of the system files or applications.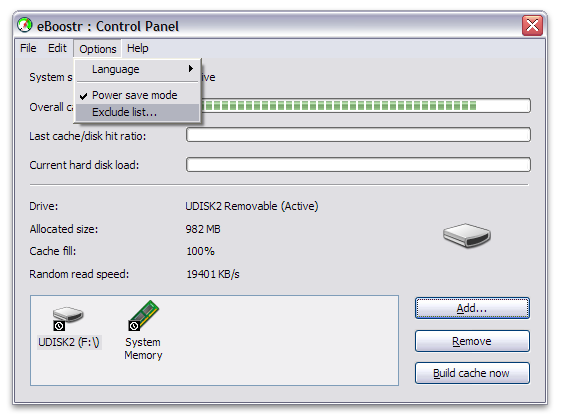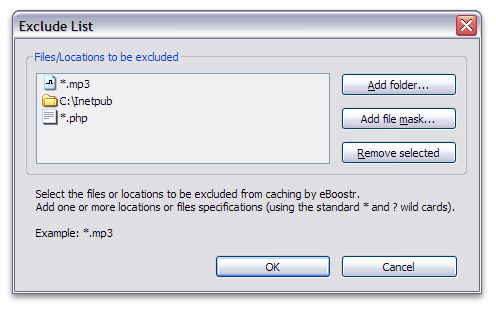 Power Save Mode

This feature is very useful for notebook owners. When your laptop is on battery power, eBoostr will automatically go into Power Save Mode. This mode disables an automatic cache rebuild and redirects all file requests to cache devices. Flash drives consume much less power compared to "power hungry" hard disk, increasing your battery life time.
Download your free fully-functional trial version now!
If you are upgrading from the previous version installation, please use the Help / Check for Updates… menu option.